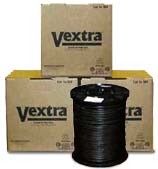 Look to Vextra Technologies for cable made in the USA. We are a manufacturer of network and building connectivity solutions. Vextra offers a wide variety of cable options you can utilize for your business needs, which includes twisted pair, coaxial, and associated apparatus products, available to order any time you need them. Our products are cost efficient and high quality and come with a one-year warranty. To reach your nearest Vextra distributor, call our toll-free number at 866-366-5151 or email your information request to Vextra.
Method of shipment
Unless otherwise agreed in writing prior to shipment, the seller shall have sole control and discretion with respect to mode of transportation, routing, and any other matters connected with, related to, or involved in transportation of the goods.
Inspection
Unless otherwise agreed in writing, the goods are subject to seller's standard inspection at place of manufacture.
Terms and conditions
All terms of payment set forth herein are subject to the approval of Seller's Credit Department. (b) No discounts are allowed on taxes or freight charges. (c) Any amount not paid within thirty (30) days after the date of Seller's invoice to Buyer therefore shall be subject to a FINANCE CHARGE of 1 1/2% per month until paid, the rate of said FINANCE CHARGE being the equivalent to an ANNUAL PERCENTAGE RATE of 18% per annum. In no event, however, shall the rate of the said finance charge exceed the highest rate permitted by law.
Warranty
All goods manufactured by the seller are warranted to be free from defects in material and workmanship for a period of one year commencing on the date of shipment to buyer. For a complete warranty statement, please contact a Vextra representative.
If you have questions, refer to our Contact page to reach a Vextra Technologies representative. We are more than happy to answer your questions about our cable made in the USA, help you through the ordering process, and explain our terms and conditions in greater detail.